I'm a director, playwright, proud Austin native, and the Artistic Director of Tutto Theatre Company. I returned to Austin after graduating from Yale University in 2010 and am so excited to have Austin as my professional homebase. My passion is for "Impossible Theatre," which restructures reality to reveal the world in surprising, truthful ways. I am also deeply committed to developing new plays.

My theatre work in Austin began when Capital T Theatre selected me to be their 2011 "New Directions" Director, and handed me the reins to Mickle Maher's Spirits to Enforce, which went on to win the Austin Critics' Table Award for Outstanding Production of a Drama. Following Spirits, I began my collaboration with Tutto Theatre Company and playwright Leegrid Stevens as the director of Stevens's new play THE DUDLEYS!: A Family Game, which swept the 2011 B. Iden Payne Awards, winning Best Production of a Comedy, Best Director and 6 others. Following our production, Leegrid received the Alec Baldwin Fellowship with the Singer's Forum to develop the THE DUDLEYS! further in New York City. Since then, I've premiered The Alien Baby Play and The Twelfth Labor with Tutto, which is now focused entirely on developing new work. I also directed my own play Love in Pine with Last Act Theatre Company.

I first began directing as an undergraduate at Yale University, from which I graduated cum laude with Distinction in Theatre Studies in 2010. At Yale, I directed the world premieres of Beautiful Little Fools by Tessa Leigh Williams and my own translation of Once Five Years Pass by Federico García Lorca. My work at Yale also included Passion by Stephen Sondheim, The Real Thing by Tom Stoppard, Ghosts by Henrik Ibsen, L'enfant et les sortilèges an opera by Maurice Ravel, and The Baltimore Waltz and The Long Christmas Ride Home both by Paula Vogel. Additionally, I served on the Executive Boards of the Yale Dramatic Association, Inc. and the Yale Drama Coalition. At graduation, I was the 2010 recipient of the Richard B. Sewall Cup for outstanding scholarly achievement and creative promise.

When I'm not directing, writing, or translating, I'm often working as an educator. From 2011 to 2012, I was the ad-interim director of the Theatre Department at my alma mater, dear old Westlake High School. Currently, I'm a math coach at Burnet Middle School, helping a very underserved group of kids get on level and beyond in mathematics.

In whatever free time is left after that, I'm often swimbikerunning: I've completed two Olympic Triathlons and am shooting for a third in May 2013! If I'm not being as healthy, you might find me at Thunderbird Coffee, the Liberty, or Taquería Guadalajara Arandas. Coffee, beer, tacos and sunshine -- that, in addition to the bold experimental theatre scene and active community of artists, is what life in Austin is all about.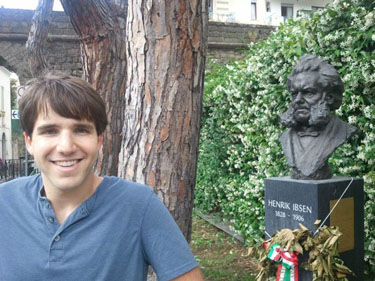 In Sorrento, Italy with a friend.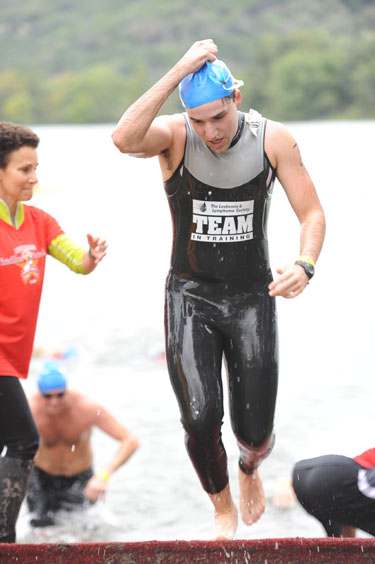 Coming out of the Guadalupe River at the 2012 Kerrville Triathlon
Austin, as seen from the Long Center for the Arts.