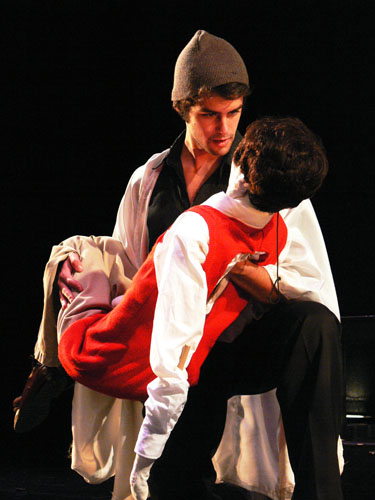 View the LONG CHRISTMAS RIDE HOME gallery.
Photos by Eric Anderson, except where noted otherwise

THE LONG CHRISTMAS RIDE HOME
by Paula Vogel
Directed by Gary Jaffe
Puppet Direction, Design and Construction by Gary Jaffe

OCTOBER 23 - 25, 2008
at the Off Broadway Theatre
presented by the Yale University Sudler Fund

In The Long Christmas Ride Home, a fusion of Japanese and American storytelling, reliving a memory is translated into puppeteering one's childhood self. In one of the key moments of the play, the ghost of the brother returns to his childhood body by picking up the inactive puppet of his childhood self, cradling it, and then breathing life into it by making him move. This moment taught me that there is no miraculous act that cannot be performed on a live stage with just an actor's body, maybe a puppet, and a deep-seated belief in possibility.

Knowing that I wanted to direct Long Christmas, I went home for summer with a quest: build life-size child puppets in the style of Japanese bunraku on a limited budget. I researched joints and skeletons, designed the puppets, and surprisngly, my family and I were able to build them together successfully, despite our complete lack of experience with puppetry. Once my actors and I figured out how to use them, the puppets achieved an incredible expressivity in performance.

Featuring: Lucas O'Connor (featured left), Erin Capistrano, Peregrine Heard, Maia Collier, Bobby Foley, Jacob Liberman, Misha Laskin, Lily Lamb-Atkinson, Victoria Rogers, Isaac Durand, Kyle Eichner, and Rico Rodriguez on live guitar.

Scenic Design by Gary Jaffe; Lighting Design by Lauren Bremen; Costume Design by Elizabeth Palazzolo; Original Music by Rico Rodriguez; Puppet Face Painting by Adele Han Li; Choreography & Puppet Wigs by Jacob Liberman.

Review
"The Long Christmas Ride Home is a play of blurred boundaries — between past and present, love and hate, life and death. "What do we believe?" the youngest daughter pleads. And as the play progresses, these perceived boundaries become more and more skewed, until the audience is no longer able to answer that question for themselves. The production, which blends people with puppets and American theater with Japanese performance art, is a tragic play. "The Long Christmas Ride Home" follows two parents and three children during a defining Christmas when the family fiber is falling apart, and it explores how this day becomes entrenched in the family members' futures. [...] Lucas O'Connor '09, playing Stephen, delivers a devastating monologue that shows how the children's lives have come full circle. "He does not love me; he does not love me. Why doesn't he love me?" [...] A major strength of the play is the music, which escalates the family's desolation. Rico Rodriguez '10, with his electric guitar, quietly strums a dismal rendition of Jingle Bells, reflecting the gloomy nature of a normally happy holiday. At the climax of the performance, as the father lifts his head to strike the mother, a sustained screeching wails from the guitar, and the audience can't help but hold its breath."
Carissa Youse,
Yale Daily News