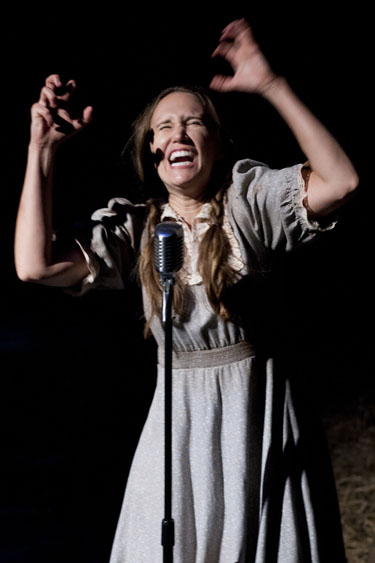 View the TWELFTH LABOR gallery.


Photos, unless otherwise noted, by Kimberley Mead

THE TWELFTH LABOR
a new play Leegrid Stevens
directed by Gary Jaffe

10 AUGUST – 1 SEPTEMBER 2012
at McCallum's Laboratory Theatre
a co-production of Tutto Theatre Company and Mac Theatre

A Fatherless Family. A Secret Pregnancy. A Decision.

Leegrid Stevens' evocative original play, The Twelfth Labor, is a new American epic; using the myth of The Twelve Labors of Hercules to explore the inner workings of a hardscrabble World War II-era family in Idaho. We follow a single day in the life of this family—October 15, 1949—as seen through the damaged mind of the eldest daughter, Cleo. Through her fragmented memories, prophetic dreams, and swirling language, we begin to understand the price she and her family have paid for a little dignity, while awaiting the return of their long absent father, lost in the war half a world away. In addition to Greek myth, The Twelfth Labor draws upon the popular culture of Cleo's childhood (The Wizard of Oz, Gone with the Wind, Abbott & Costello), that shapes and colors her warped experience of the real world.

Featuring: Erin Treadway (pictured left), Rebecca Robinson, Helen Allen, Wray Crawford, Trey Deason, Chris Humphrey, Skip Johnson, Content Love Knowles, Megan Minto, Fred Winkler, Katie Dahm and Annamarie Kasper

Scenic Design by Ia Ensterä; Lighting Design by Natalie George; Costume Design by Benjamin Taylor Ridgway; Hair & Make-Up Design by Austin M. Rausch; Properties by Justin Cox; Video & Sound Design by Eliot Haynes and Leegrid Stevens.

Reviews

"A beautiful, dreamscape of a show."

Cate Blouke,
critic for the Austin-American Statesman

"Tutto has mounted a gorgeously moody, intellectually challenging piece, comprised of Steven's four-part suite in the stark isolation of a farmhouse somewhere out on an alien landscape of the mind. Designer Ia Ensterä again creates a wrap-around environment in weathered wood, a falling-down barn and a two-story farmhouse. […] Each of these four scenes is rich, powerful and coherent; taken together they are a celebration of the power of spoken language, well-acted. Director Gary Jaffe has once again given us an extraordinary, sophisticated and beautifully designed piece of theatre."

Michael Meigs, austinlivetheatre.com



"The acting is engaging, with strong performances from several supporting players. Stevens shows a knack for creating a style of language that is at once fascinating and completely clear. Ia Ensterä's chaotic set design is fabulous. […]The Twelfth Labor is a swirling mess of great ideas: classical allusion, powerful imagery, intriguing language, and more."

Elizabeth Cobbe, Austin Chronicle

"Incredible show. Very well done on so many different levels, and what hard work!"

Lisa Scheps, Off Stage and on the Air