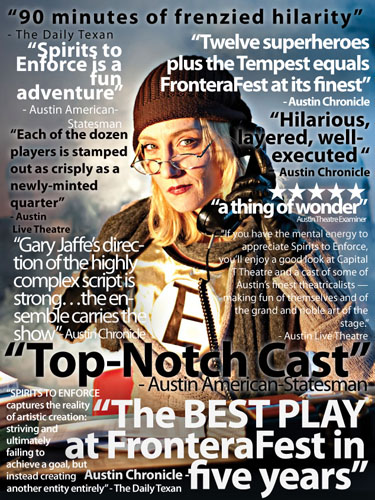 SPIRITS TO ENFORCE
by Mickle Maher
directed by Gary Jaffe

19 JANUARY – 12 FEBRUARY 2011
at the BLUE Theatre
presented by Capital T Theatre

Twelve superheroes take up residence in a secret submarine to hold a fundraising drive for their upcoming production of William Shakespeare's The Tempest. Seriously. Infusing elements of Shakespeare's language, comic book lore, and choral arrangement, Mickle Maher's Spirits to Enforce is formally innovative, wryly humorous, deeply compassionate and holds firmly to the belief that the the theater can create anything out of nothing at all. To build a soundscape out of the play's demanding polyphonic script, I often acted as a conductor in rehearsal, using music terminology to conduct the "choir." Additionally, to provide a visual counterpoint, I created a spectacle of blandness with the rote materials of a call center.

Featuring: Braden Hunt, Toby Minor, Jay Fraley, Travis Bedard, Blake Smith, Tyler Jones, Stephen Mercantel, Jenny Gravenstein, Allison Gregory, Karen Alvarado, LaTasha Stephens, Tiny Robinson

Scenic Design by Mark Pickell; Costume Design by Glenda Barnes; Sound Design by Brett Hamann.

Awards & Citations:

Austin Chronicle's #2 Theatrical Wonder of 2011

Austin Critics' Table Award Winner:
Outstanding Production of a Drama,
Outstanding Sound Design

Austin Critics' Table Award Nominee:
Outstanding Ensemble



Austin Theatre Examiner Nominee:
Best Production of a Comedy,
Best Director of a Comedy,
Best Ensemble in a Comedy,
Best Supporting Actress in a Comedy,
Director of the Year

AustinLiveTheatre Awards Nominee:
Best Ensemble

Reviews:

"With a true sensitivity to language, serious comic chops, and seamless ensemble work, Gary Jaffe and his superteam of actors transformed The Tempest into something rich and strange."

Robert Faires, Austin Chronicle

"A thing of wonder [...] A good director knows when to pump up the spectacle, and when to let the words speak for themselves, and in this vein, Gary Jaffe shows himself in a rare class, showing amazing restraint and sublelty. [...] We can expect great things from this young director. "

Ryan Johnson, Austin Theater Examiner

"Gary Jaffe directs this difficult and static play effectively on the whole. [...] The dialogue moves in waves — often overlapping, rising to a cacophony, and receding into quietude [...] Spirits to Enforce is a fun adventure in meta-theater."

Cate Blouke, Austin-American Statesman



"Capital T Theatre's Spirits To Enforce by Mickle Maher is the best play I've seen at FronteraFest in the five years I've attended. Hilarious, layered, well-executed – the show leaves you feeling fuller than when you walked in. [...] Gary Jaffe's direction of the highly complex script is strong, the ensemble carries the show, and the sound (Brett Hamann) and set design (Mark Pickell, also Capital T's artistic director) are appropriately minimalist. Together, it is most excellent."

Elizabeth Cobbe, Austin Chronicle

"90 minutes of frenzied hilarity."

The Daily Texan